menu
close menu

About Us
Qamar Energy provides leading-edge energy strategy, commercial and economic consulting across the energy spectrum. Our team of researchers combines over 25 years of experience across the energy value chain with specialised market intel, building on a global network of industry and government links. We provide targeted solutions in:
Energy Geopolitics
Economic and Feasibility studies
Business and Strategic plans
Country and Market Entry studies
Opportunity Screening analysis
Negotiations and mediations
We are oil and gas experts under the Swiss Arbitration Association (ASA) and the London Court of International Arbitration (LCIA), and have been involved in negotiations, expert witness, and arbitrational services for a number of high-profile regional and international energy cases. We advise on policy-making, strategy and investments, and offer a deep understanding of global energy market dynamics.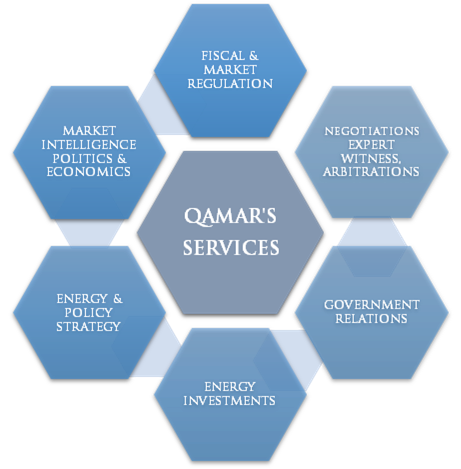 Our Services
Qamar Energy is an independent consultancy that specialises in Middle East & North Africa energy and geopolitical studies with focussed assessments of country dynamics, market intelligence, and international energy trading strategy. With few other consultancies offering bespoke analysis of all 20+ MENA countries, our detailed understanding of the underlying drivers is crucial to advance any business strategy. Our forward looking perspective allows us to place recent energy developments in the region within a broader context and a long-term view.
Our Mission
To combine over 25 years of hands-on local and global expertise with in-depth analysis through our team of specialist researchers and draw out implications for the region from ever-changing global energy dynamics and trends. Qamar Energy's globally informed and locally informed experience is supported by our diverse language capabilities (including Arabic, Farsi, Urdu, Dutch, and Norwegian) as well as our team's distinct understanding of local culture and norms.
Our Promise
Through our extensive regional network that covers private enterprises and government bodies, and our prime global database, we offer expert support in decision making processes, testing the commercial viability of potential joint ventures in the Middle East & North Africa region, and mapping risk assessments and mitigations for business development opportunities.
Our Expertise
Qamar Energy covers every sector of the energy spectrum, from upstream, midstream, and downstream in hydrocarbons, to alternative energy, renewables, unconventionals, power and utilities, and electricity.